Online Tutoring
Learning requirements and preferences of each learner tend to be different. Tutor24x7 uses a blend of learning approaches in their strategies to get the right content in the right format to the right people at the right time.
"Online tutoring with blended learning platform leads to 33% enhanced performance as quoted by one of the pioneers in test prep industry, Mrityunjay R Narayanan.".
Blended learning combines multiple delivery media that are designed to complement each other and promote learning and application-learned behavior. Blended learning programs include several forms of learning tools, such as real-time virtual lectures with e-books, self-paced Web-based courses, electronic performance support systems (EPSS) embedded within the learner-task environment, and knowledge management systems. Blended learning mixes various event-based activities, including face-to-face classrooms, live e-learning and self-paced learning. This often is a mix of traditional instructor-led training; synchronous online conferencing or training, asynchronous self-paced study and structured on-the-web tutoring from an experienced tutor or mentor.

Connect with us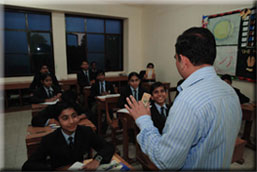 To register click here